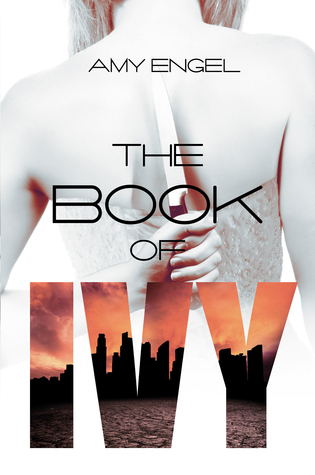 After a brutal nuclear war, the United States was left decimated. A small group of survivors eventually banded together, but only after more conflict over which family would govern the new nation. The Westfalls lost. Fifty years later, peace and control are maintained by marrying the daughters of the losing side to the sons of the winning group in a yearly ritual.
This year, it is my turn.
My name is Ivy Westfall, and my mission is simple: to kill the president's son—my soon-to-be husband—and restore the Westfall family to power.
But Bishop Lattimer is either a very skilled actor or he's not the cruel, heartless boy my family warned me to expect. He might even be the one person in this world who truly understands me. But there is no escape from my fate. I am the only one who can restore the Westfall legacy.
Because Bishop must die. And I must be the one to kill him…
The Book of Ivy surprised me. I had no idea what to expect from this book and I was pleasantly surprised. I didn't want to put it down. I'm not usually a fan of dystopian books simply because some of the world building is hard to imagine, but I really loved this book. The history behind their "nation", how it came to be, the way they run things, etc. was so easy to understand. I wasn't focused on the fact that it was a dystopian book; I was focused on Ivy and Bishop's story that just so happened to be in a dystopian world.
I was captured from the start. The idea of a forced marriage had me extremely intrigued. Once you realize that Ivy is meant to Kill Bishop, you are instantly hooked. I could relate to Ivy because she is a bit of a loner. I felt for her. The pressure she had on her shoulders and the choices she had to make were impossible. It made me want to protect her from the world that she had been forced into. That being said, there's a mystery of what exactly Ivy's sister and father plan to accomplish by her killing Bishop, but it gives you another reason to keep reading. Throughout the book you feel like you want to side with them, but the way they act sometimes makes you second guess yourself. It keeps you interested. I was terrified throughout the whole book of what Ivy might do. I could never tell where her heart was until the end, but that makes the story that much more exciting. In the end, I was shocked at the way Ivy handled things. My heart broke for her in the end. My heart also broke for Bishop. I loved him from the start. He is mysterious, of course, handsome, and extremely hard to hate, which made Ivy's task that much harder to be okay with. The mystery surrounding him was intriguing, and the way he acted so nice and kind to Ivy made me love him.

However, he did make me angry sometimes. The way he answered some of Ivy's questions with a non-answer ticked me off, but that's a minor thing. He always made up for it by being sweet to Ivy.
This book was full of twists and turns, mysterious plots, new love, and tough choices. There was one point in The Book of Ivy that was such a twist in the story that everything I learned beforehand was called into question. President Lattimer didn't seem so evil and Ivy's father seemed to be the one keeping secrets. The ending had me begging for more and wishing the book was longer. I don't know how I can wait until November to find out what happens next. I fell for Bishop and Ivy's story and I am hooked. This has to be my favorite dystopian read that I have ever come across. I give it five out of five stars!