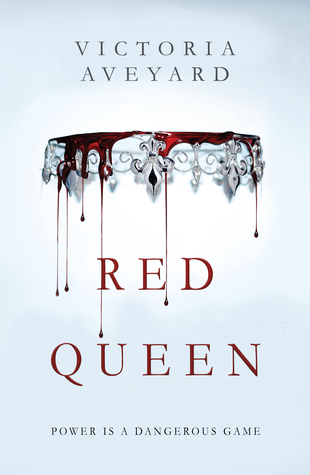 The poverty stricken Reds are commoners, living under the rule of the Silvers, elite warriors with god-like powers.
To Mare Barrow, a 17-year-old Red girl from The Stilts, it looks like nothing will ever change.
Mare finds herself working in the Silver Palace, at the centre of those she hates the most. She quickly discovers that, despite her red blood, she possesses a deadly power of her own. One that threatens to destroy Silver control.
But power is a dangerous game. And in this world divided by blood, who will win?
Red Queen took me on a journey I never even could have imagined. My heart was torn apart, my mind was played with, and my feelings were as confused as my mind. I thought I knew how this book would end, but I was SO wrong. So wrong. Never in my history of 1,900+ books have I had a book drag me through the ringer as much as this one did. I thought I knew who to trust, but again, I was so wrong. All I know is that Mare is a heroine that will rival all heroines. She is a strong character with a heart of gold. She is the only one I trusted. This book is full of adventures I never thought possible, and plot twists I wish I had never read. Red Queen is a book that will captivate you, drag you on an emotional rollercoaster, and leave you feeling like you need to reread the book again just to solidify what just occurred.
I loved the beginning of Red Queen. It was very descriptive and it set the tone for the rest of the book nicely. The world building is very unique in Red Queen also. It is different from anything I've ever read before. This story is set in a time where kingdoms still exist, those with silver blood are considered to be superior, and red bloods are considered inferior. In an age that resembles the renaissance era, there are also forms of technology, like versions of subways, cars, lights, cameras, television, etc. it's a little hard to get your head around, but it is interesting nonetheless. It doesn't hinder the story in any way. The story gets interesting really fast and from that point on I was thrown into a world full of scary secrets, royalty, and action.
The characters in this book are some of the most complex I have ever had the pleasure of reading about, which makes the story that much more engaging. The story line is one that will appeal to the masses, and it will have them hooked from the start. I immediately clicked with Mare. She was wicked awesome. She was fierce yet kind, and she would have done anything to protect the ones she loved and trusted. That arena scene had my heart racing and I was cheering my butt off for Mare. I was fascinated by Cal and Maven, the two princes who seemed to want to be otherwise. Cal is caring and attentive while Maven is caring but aloof. It was always interesting to see them interact with Mare. Cal was interesting, and I instantly had a soft spot for him. Plus, he had a motorcycle. What? I'm a sucker for men on motorcycles. Maven seemed like the type of prince who would do what was right by the Reds, and I liked him for that. However, I had so many mixed feelings about Cal and Maven throughout Red Queen. One character I knew I would hate no matter what, was the Queen. From the start, I just wished Mare would have shown the Queen how powerful she really was. The Queen was just so infuriating and vile. Another character I will never stop despising is Evangeline. She was everything I hated in a character, but she was supposed to be that way. I really hope Mare defeats her in the future or shows Evangeline that she is more powerful. That brings me to the idea of Mare being special and having these amazing powers. I loved that about her because I always love a good story where the heroine is unique in some way.
I went into this book thinking that it would be a great read, and I figured I would be able to predict what happened, but I was shocked to find something completely different. I was transported into a story that left me numb from all that happened. Nothing is simply great or predictable about this book. Red Queen is a phenomenal book that will have you questioning everything and everyone. I could give this book all the stars in the galaxy and all the awards in the world, but five out of five stars and a new addition to my favorite books list will have to suffice.