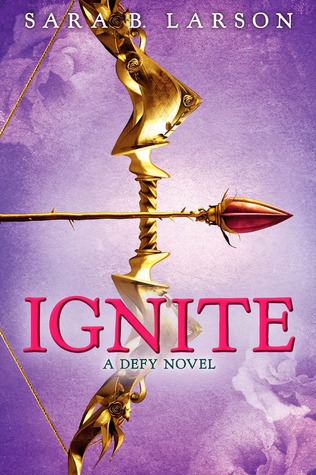 Murder, abductions, and forbidden romance abound in this thrilling sequel to Sara B. Larson's acclaimed YA debut, DEFY.
Alexa remains by the newly crowned King Damian's side as his guard, ever committed to helping him rebuild Antion and reclaim the hope of Antion's people, despite continuing to harbor a secret love for him. However, when another threat to Damian and his kingdom emerges, and blame is cast on their newly forged allies from Blevon, Alexa knows things are not what they seem. With the fate of her nation hanging in the balance once again, will Alexa be able to protect her king and uncover the true enemy -- before it's too late?
Ignite
is a book that I wanted to savor. I could have read it in one sitting because it was so amazing, but I wanted my experience with Alexa and Damian to last. I had no idea what would happen in this book because Defy left us with such an open ended realm of possibilities. I did not expect the drama in this book though. Half of the time, I wanted to knock Alexa and Damian on the head and the other, I wanted to scream at the situations they were in. I may have jumped for joy at one point because I was so happy. I won't spoil it but just know that jumping for joy would have been acceptable. The mind games this book played on me also kept me hungry for more. The mystery surrounding the suspicious nature of attacks on Damian's land also keeps you guessing and questioning everything. Alexa was once again thrown into a battle against good and evil and this time her friends and those she loved were at stake. She had to fight battles she never even imagined she would have to fight, and she even had to injure some of her closest friends. Ignite did not lack in emotional situations, heart pounding actions, or risky adventures. In this sequel to Defy, we are brought closer to the ultimate evil that Damian and Alexa will have to battle before their kingdom can truly be at peace, and I am extremely excited to see what the next book in the Defy series has in store for the characters that I love. I give Ignite five out of five stars!